Brandon Weeden is the most powerful man in Cleveland.  Few quarterbacks can spur an entire town to openly weep in a three hour span.  Weeden triggered the event with an apocalyptic week one performance that made Tim Couch cringe: 12 completions in 35 attempts, 118 yards, 4 interceptions, 2 fumbles and a 5.1 quarterback rating.  It was the worst opening start for an NFL rookie since 1960.
The Browns offense was overmatched at nearly every position, and mustered 24 minutes with the football.  Eagles defensive end Jason Babin outmuscled rookie right tackle Mitchell Schwartz all afternoon, while corners Nnamdi Asomugha and Dominic Rodgers-Cromartie routinely pressed receivers off their routes.  Combined with a stalling running game, Weeden was forced to throw early and often, but he lacked the security of a go-to target like Justin Blackmon at Oklahoma State.  The result was forced shots at blanketed receivers.
Locals' reaction to Weeden's choke job has been swift and merciless (read the comments on any Weeden-related story,) but the man was drafted 22nd overall for a few reasons.  After toiling in minor league baseball for five years, the 6'3", 220 pound talent cut his losses and enrolled in college to revive his football career.  At Oklahoma State, Weeden shattered numerous university records with a rail gun arm and mature leadership.  NFL scouts were concerned with the gunslinger's age (28), mobility and unfamiliarity with pro offenses, but Browns president Mike Holmgren rolled the dice.  Weeden earned the starting job in training camp.
Sunday's performance puts the decision into question, as skeptics view the quarterback as a normal-aged rookie.   Excluding turnovers, Cleveland's drives produced 7 punts, 2 field goals and 3 red zone trips.  The squad was 2 for 13 on third down opportunities. Weeden's impact wasn't positive.
Take a closer look at the atrocious numbers, and the gunslinger was not entirely at fault.  Weeden made 11 catchable throws, 4 of which were easy drops (one led to an interception,) 2 off receivers' fingertips and one where tight end Alex Smith tripped on his route.  The other 4 tosses were disrupted by great defensive plays.  Subtract two heaves to the sidelines, and there were still 10 embarrasing throws.  There were three especially concerning snaps that may hint at a bleak NFL future.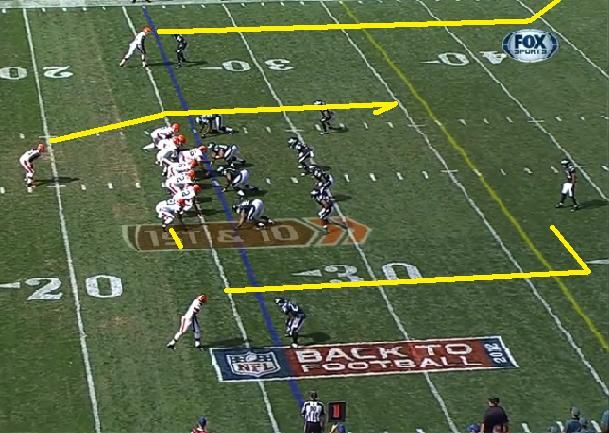 The first play occurred a little more than a minute into the third quarter.  The Browns called a play action, while the Eagles dropped back in a Cover 3.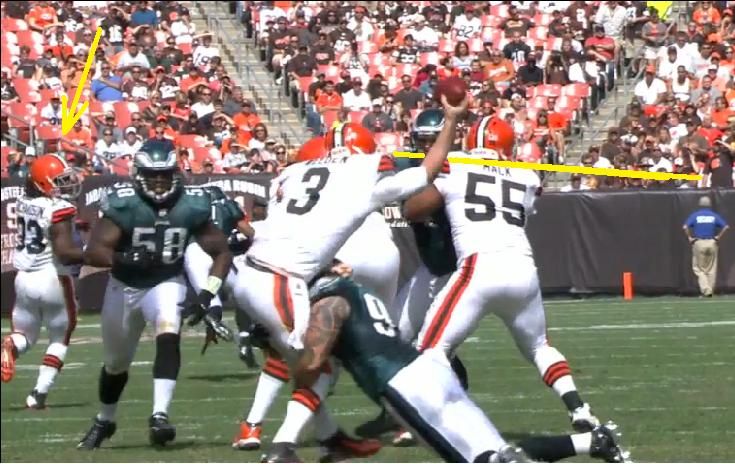 Following the fake, Weeden never looked off his split end, Mohamed Massaquoi, and missed Trent Richardson (arrow) spilling out.  Failing to check down reads in the NFL is an amateur, Tebow-esque choice.  Meanwhile, Babin bull rushed through tight end Ben Watson to have a clear shot at Weeden's knees.  He may be the oldest rookie quarterback ever drafted in the first round, but that doesn't make him Superman.  Next time, Weeden needs to audible for blocking help.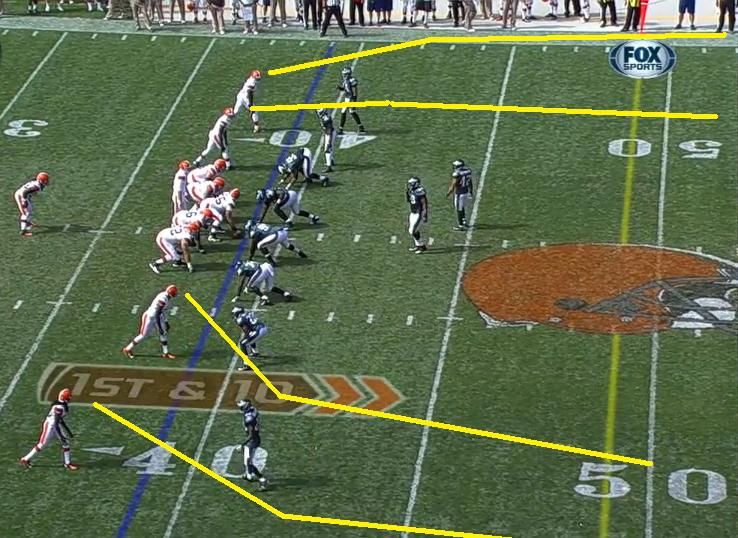 Later in the third, Cleveland lined up 4 wide, and Philadelphia shifted their personnel towards the line of scrimmage.  This was either ignored or seen as a bluff by Weeden.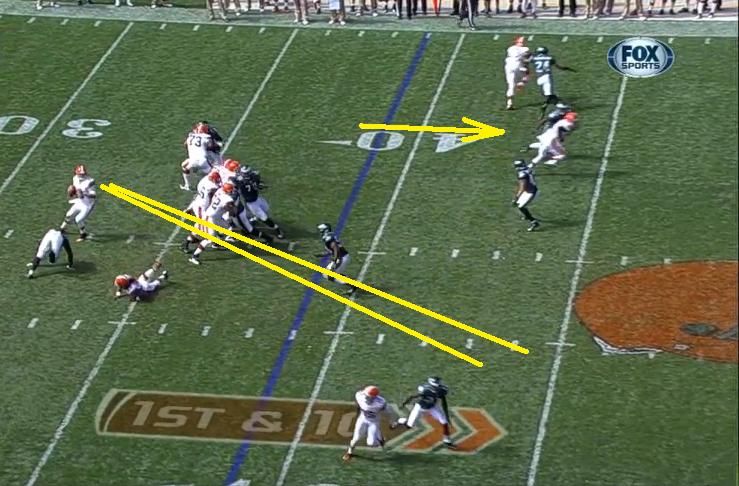 Correctly enough, Philadelphia didn't bring the house (besides a delay by DeMeco Ryans,) but Weeden failed again to read the left side of the field.  What he failed to notice was that slot receiver Mohamed Massaquoi beat his man.  Instead, a rattled Weeden underthrew a jump ball that was intercepted by Dominique Rodgers-Cromartie.  This was troubling because an identical jump ball interception happened in the second quarter.  Both times, Rodgers-Cromartie had inside coverage on Todd Benjamin, a rookie receiver who is 4 inches shorter.  Weeden didn't learn from his previous mistake.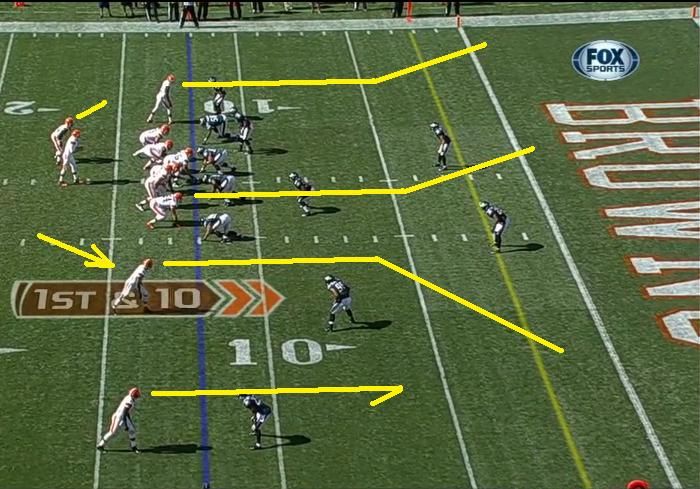 Then as the third winded down, Cleveland set up in the shotgun to aim for the endzone.  Philadelphia replied with a 4 man rush and man-to-man coverage.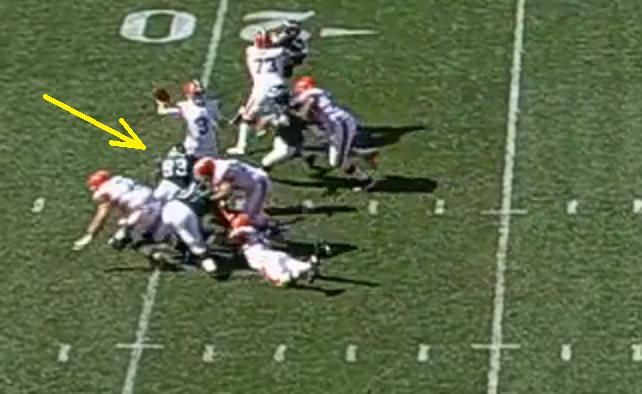 This sequence showed a tired or shell-shocked Weeden who not surprisingly lost his composure in the face of pressure.  Cleveland's offensive line did their leader no favors, but the quarterback missed a wide open Alex Smith (slot) in the pay dirt by a yard.  Babin (arrow) and Cullen Jenkins proceeded to burst through the line, and slammed Weeden to the turf.  The play was negated by a defensive holding penalty, but NFL defenses can smell the blood and will come after the rookie every week.
The silver lining in Weeden's week one performance is about a millimeter thick.  He is incredibly tough, and he rallies the troops.  His hypersonic throws will remain accurate when the Cleveland winds kick in, a major factor in winter contests.  He looked like Brett Favre on Sunday, forcing throws in ridiculously small windows.  That is a good and bad thing.
Expect head coach Pat Shurmur to unveil maximum protection plays next week against the blitz-happy Bengals.  The loss was a worst case scenario for Weeden, but the coaching staff put him in a position to fail, using a one-dimensional offense and transitioning to a dink-and-dunk with the game on the line.  When they finally removed the chains, Weeden threw a horrible interception to seal the game.  Maybe he was weary of more take downs.
At this pace, Weeden's career is approaching David Carr territory, but he has an ace under his shoulder pad.  Pitching in the minor leagues taught him to forget terrible plays, which occurred often.  Weeden acknowledged, "(That) we've all had games where you want to crawl under a rock.  It's all about how you respond."  Well you took the words out of my mouth.  It's time to grab Cleveland by the horns, and remind everyone who's the boss around here.