The Bayou Bomber is not familiar with mercy. His contested jump shot shanks opponents' souls. In the basketball life, Marcus Thornton knows his offense can win games in dramatic fashion. Entering his third season in Sacramento, fans have fallen in love with his fearless fourth quarter demeanor.
While the Baton Rouge native can lay claim to be an exceptional scorer, his presence has muddled the future of 2009 lottery pick Tyreke Evans. The enormously talented but inconsistent Evans shares the same natural position as Thornton, so Kings management continues to speculate whether the two shooting guards can coexist.
The answer is yes, but to avoid the stagnation of ball movement, it would be wise for one player to accept a bench role. That man should be Thornton, because he plays with a chip on his shoulder. Thornton can redefine the sixth man role and reshape his legacy by finding the humility to start a game sitting down.
Before the move to Sacramento, Thornton spent his whole life in southern hospitality. A star at Tara High School in Baton Rouge, he played two years at a Texas community college before transferring to Louisiana State University. In a Tiger uniform, Thornton gained national recognition for his stellar production against elite competition. While his numbers on offense screamed "NBA ready," scouts criticized his height and frame as potential red flags for professional success. Thornton fell to the Heat at 43th overall in the 2009 NBA draft, and the Hornets traded future second round picks to acquire the local.
From the onset, Thornton blew away expectations with an average of 14.5 points per game as a rookie. The next year, he fell out of favor with coach Monty Williams due to sporadic defensive focus. Kings general manager Geoff Petrie seized the opportunity by dealing Carl Landry in a deadline swap for Thornton. He promptly exploded on the Sacramento scene, and was rewarded in the off-season with a four year, $33 million contract. Thornton claims to enjoy Sacramento.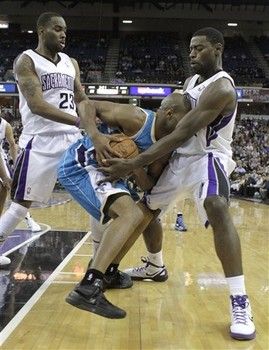 There is no question for Thornton's basketball skills, but Geoff Petrie will eventually need to decide the future of all his roster assets. Last season, Thornton, Jimmer Fredette, Tyreke Evans, John Salmons, Francisco Garcia, and Terrance Williams logged minutes at shooting guard. To alleviate the jam, coach Keith Smart shifted the latter four names to time at small forward with inconclusive results. Evans did not appreciate the move, but his play did not significantly regress. Salmons and Garcia suffered the worst performances of their careers. Williams played well, but his re-signing is uncertain. With the abundance of two-guards, Petrie's most logical decision may be to package excess talent for an upgrade at the forward positions. But a difficult choice will follow.
Do you flip Evans, a player with superstar potential, once hailed as the franchise savior? Or Thornton, who committed to Sacramento and requires the least development? Since Salmons and Garcia destroyed their minuscule trade value, that would leave Fredette as another realistic bargaining chip.
Of course, sometimes the best decision you make, is the one you don't make. Marcus Thornton is signed to a relatively affordable deal. Sacramento can match any offers for Tyreke Evans when he reaches restricted free agency in 2013. In an era of stacked teams and tiny championship windows, the Kings should retain their most valuable assets and hope to hit the jackpot with their raw potential. Veteran leadership will be required, but it can be homegrown similar to the Thunder. They can attest that playing through losing seasons will not taint youngins' confidence or hunger.
The destinies of Thornton and Evans remain at shooting guard, so compromise must be found. At 6'4" and 205 pounds, Thornton presents the least positional flexibility. To redeem this quality, he should take a seat on the bench for Evans, who will be forced to play out of position in the fourth quarter. Evans' defense has a high ceiling for improvement, which will make his versatility more valuable. With the emergence of Isaiah Thomas, Evans will no longer run the offense, but he can slide over to shut down bigger point guards. Both players like the ball in their hands, but so do Kevin Durant and Russell Westbrook. Coaches tend to play hot hands in late game situations, so Thornton and Evans will earn their appearances. The concept of playing two shooting guards in the same lineup is not a wild idea in the NBA.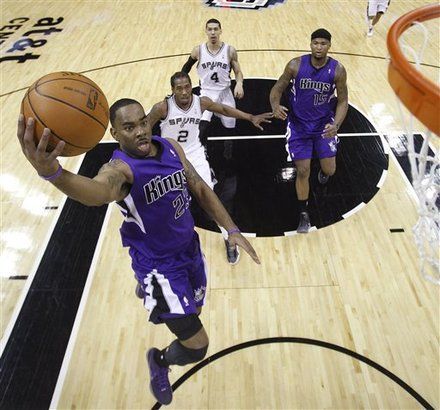 While the psychological impact of being a sixth man may be cruel, Thornton should ignore the hype and focus on reality. Coming off the bench won't stop the guard from playing 35 minutes. He will still have the opportunity to win games. Since 2000, eight shooting guards have won the Sixth Man Award, which bodes well for Thornton. The honorees include Manu Ginobili and Sacramento's own Bobby Jackson. Thornton draws the closest parallels to Jason Terry, but he has a chance to be greater. Terry, another undersized sharpshooter, blossomed in a reserve role after starting for seven consecutive seasons. He is embraced by teammates and owns a championship ring. Thornton could realistically become the first sixth man to average 20 points per game if he avoids injury. Such a record-setting performance would quell all doubts regarding a bench role.
Will Thornton swallow his pride? He already has 33 million reasons to be happy. If he wants to help his friend, he should take a hit for the team. The Sacramento Kings bench needs his help. In the meantime, he can continue to break ankles and nail game-winning fadeaways. As long as the Bayou Bomber retains his killer instinct and displays no remorse, he will continue to be a force.